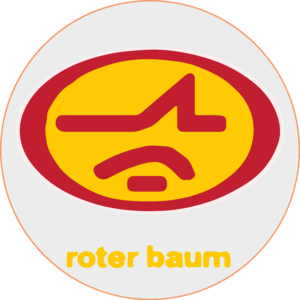 The "Roter Baum" Berlin UG (haftungsbeschränkt) is a non-governmental organisation founded in 2011 by the "Roter Baum" e.V. and carries out all projects of the "Roter Baum" organisation network in the city of Berlin, mainly in the Marzahn-Hellersdorf district. It follows the work of the gKJHG "Roter Baum" mbH. We have been working since 2001 in Berlin in different ranges of the youth work and family work, which resemble each other in an aspect: The users* participate voluntarily in order to develop themselves further.
We run a youth centre called "Anna Landsberger" (www.roter-baum-berlin.de), which has 5 employees, 2 volunteers and constantly changing interns and offers services for young people. The youth centre "Anna Landsberger" has 749,29 m² and a park of more than 3000 m²  around the youth centre. In this facility there is a café, a dance hall, a concert hall, two rehearsal rooms for bands, a learning room, a creative room, a recording studio, a computer room, a kitchen, an outdoor climbing wall and a workshop. This youth centre is a place of open youth work. This means for us that we offer space and resources so that young people can realize themselves. If desired, our employees are available for support, advice and social work. Starting from the open area, we organise workshops, concerts, youth cultural events in public spaces and excursions, mostly at the initiative of young people. Many of our youth encounters take place here. 
The multi-generation house "Buntes Haus" (www.roter-baum-berlin.de) has more than 440 m², three employees and is located in a pedestrian zone in the district of Hellersdorf. This facility has a small office section, a creative room, a large playroom, a kitchen, a learning room, a reading room and a chill-out area. This facility focuses primarily on activities with children and their parents, social learning and integration. Many activities, such as reading promotion, physical activity promotion and healthy eating activities, respond to problems that frequently occur in the immediate living environment. These activities are designed in such a way that they have an effect, but are not understood as "instruction".
The educational center "zentrale" (www.roter-baum-berlin.de) has 120 m², two permanent employees and all the necessary facilities for seminars and workshops. It is also an administrative centre for the whole NGO. However, it accommodates not only the administrative and fundraising tasks, but also projects in which people themselves can become active. The increase of civil society engagements is very important to us because we believe that this is the only way to achieve social progress. Several youth participation projects, youth culture projects, projects for political education and international youth exchanges were implemented by Roter Baum Berlin. This institution is also an information point for all young people and other interested parties in the district.